The modular system
for your individual requirements
Comfort and precision has a name
The modular WEKO-FLOW has been specially developed based on the diverse requirements of our customers to flexibly adapt to their specific needs. It is designed for the use of different fluids and applications and our customers can choose their comfort and performance level from a wide range of individual components.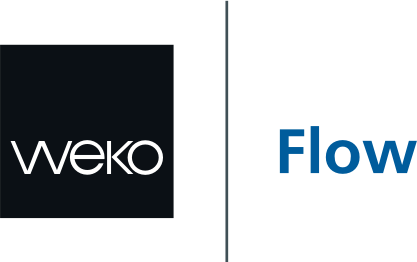 The WEKO-FLOW supply unit is used to control and supply the
WEKO rotor carrier with suitable and tested fluids.
In the standard version, it is possible to build on various basic models, which already provide a certain minimum level of comfort for the respective application requirements.
FLOW A (Aqua)
FLOW C (Chemicals)
FLOW T (Technical Coatings)
FLOW S (Special Coatings)
You can choose between different pumps, flow meters, sealing and hose materials, tank heaters, agitator units, intermediate tanks, dosing units, single or double filters, multiple liquid circuits and much more.
We would be happy to advise you in detail here in person on site or online.
The WEKO-FLOW consists of the following basic components and functions:
Supply unit with fluid tank and hydraulic unit.
The basic model consists of an aluminum profile frame with plastic walls and can be optionally designed with other materials. The main assemblies are:
Fluid tank
level control
Automatic refill function via solenoid valve
Automatic rinsing and cleaning program
Semi- or fully automatic emptying
Automatic speed adjustment
Flow and return filtration
Frequency controlled pump with flow meter monitoring
Electrical control cabinet
The control cabinet is designed as a compact unit for separate placement with associated connection cable. All control cabinets are also configured and equipped in WEKO production. It contains exclusively high quality electronic components and the control is executed by a SIEMENS PLC S7-1500s with TIA portal. Software programming and maintenance is also done in-house at WEKO.
Communication
Optionally, various connections such as Profinet, Profibus, Ethernet or OPC-UA can be selected to enable the most flexible connectivity possible.
Operation
The SIEMENS Siematic touch panel for all operating, control and monitoring functions is designed as standard for separate placement with associated connection cable. Optionally, it can also be integrated into the control cabinet door or equipped with a transportable housing.
All control, monitoring and control functions are carried out via this unit. The quantities are entered via the SIEMENS Color Touchpanel in ml/m² or as a percentage of the product weight.
Your benefits

- Simple operation
- Resource-saving minimum order
- Low energy consumption
- High flexibility of spraying media
- Siemens PLC with possibility of machine connection
- Automatic speed adjustment
- User-friendly due to easily removable components
- Robust, durable design
- Programmable rinsing and cleaning
- Semi- or fully automatic pumping out of residual fluid